The current era can be called the era of digitalization. The growth of portable electronic devices caused the demand for multiple apps for both personal and for-profit purposes. Subsequently, the society of developers began to expand. Engineers got into learning various machine languages and tools for web app building.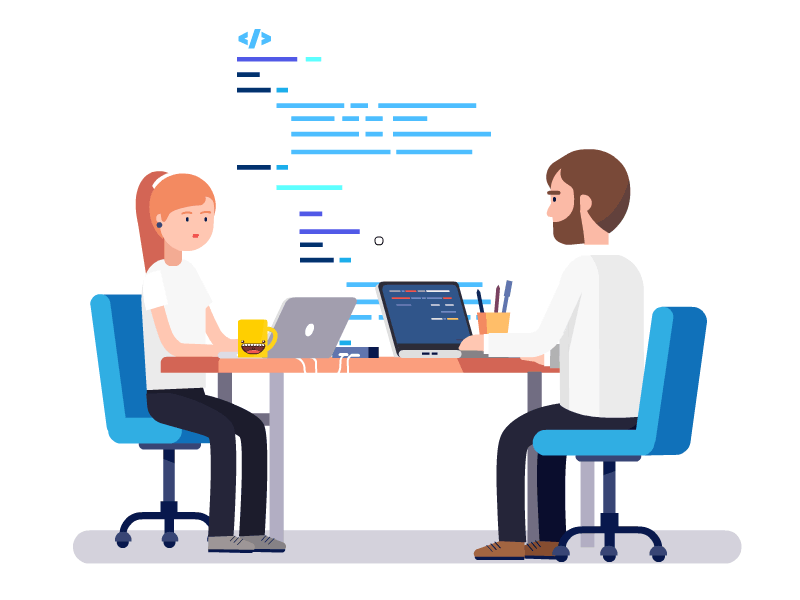 In most cases, the type of developed app is the crucial requirement to opt for an engineer. If it refers to web apps, advance in favor of the Ruby on Rails framework. There are so many attractive features and advantages to convince a company to search for ruby on rails companies for hire. Nevertheless, the task promises to be challenging.
Ultimately, Rail is an infrastructure that provides a developmental environment for various types of web apps, be it an app for:
community support
content management
collaborative work organization
digital business
management
statistics
You name it, it's likely RoR has been put to work in a productive manner there.
HIRING A RUBY ON RAILS DEVELOPER FROM THE LOCAL MARKET
The best way to hire a ROR developer for your project is to hire from the local market through one of the many available job posting websites for ROR local development. you choose among the requirement that submitted their resumes and applied for the posted position, filter these candidates and contact the most promising ones, invite them for interviews and hire the candidate that is most qualified for the ROR position.
Pros
You will have full control over your developers and their schedule.
Location and time zone differences are nonexistent.
Cons
It's required for physical resources, such as office workspace, computers, and all other equipment.
This thing may be expensive, as local developer rates are typically high, especially in the USA, and the UK.
This entails long-term contracts with employees, which means you will have to keep them continuing with him/her after the project.
OUTSOURCING TO RUBY ON RAILS DEVELOPMENT COMPANIES
You can also hire an outsourcing ROR web development company who have their own programmers with ROR skills and provide ROR web development services, and give them the details of the project that needs to be done. In this option, you delegate the task of developing your project from start to finish to ROR development companies. Normally, a ROR web application development company will delegate a business analyst to coordinate with you about the details of the project and extract all essential information before development can begin. The ROR development company will then provide a project manager to oversee the development of the project and make it done by on-time. So many ROR development companies are typically demanded by customers who have a clear idea of the product or application that they build.
Pros
You don't need to worry about project management.
You don't need to worry about the screening process for applicants.
Cons
Can be quite costly since there are lots of overhead, such as project management.
Limited control over the project development process.
Misunderstandings of business requirements can lead to higher costs.
HIRING A DEDICATED RUBY ON RAILS TEAM
One other option is to hire a remote ROR programmer from a dedicated development team provider like IIH Global. With this option, so remote ROR team of programmers will work on tasks from their company's office, but they will report to you and communicate with you directly. Although your ROR application development dedicated team may not be physically present in your office, you are able to monitor RoR programmers' activities on their dashboards. online conferencing applications. This allows you to hire a dedicated ROR programmer or find a developer for hire with ROR skills who are more experienced and the team just as though they were physically in your office.
Pros
More control over developers and project development than with outsourcing.
It can be very cheap depending on the offshoring company's location.
No need to pay your developers' taxes and insurance, as the offshoring company will be handling those things.
It gives you full control over the recruitment process and the final selection of the candidate.
It gives you cost flexibility, as you can increase or decrease the number of developers at any time.
Cons
Location and time zone differences may be a problem.
Inability to work on large confidential projects, particularly in the finance and banking industries, where contracts require having all developers exclusively in-house.
TECHNICAL SKILLS: RUBY ON RAILS DEVELOPER SHOULD HAVE
The developer must have the required skill set to fulfill your expectations for app development. Some of the basic and advanced skills that ROR programmers must have are:
Experience with Ruby on Rails skills, along with other common libraries such as RSpec and Rescue
Good understanding of the syntax of Ruby and its nuances
Solid understanding of object-oriented programming
Good understanding of server-side templating languages {{such as Liquid, Slim, etc depending on your technology stack}}
Good understanding of server-side CSS preprocessors {{such as Sass, based on project requirements}}
Basic understanding of front-end technologies, such as JavaScript, HTML5, and CSS3
Familiarity with concepts of MVC, Mocking, ORM, and RESTful
A knack for writing clean, readable Ruby code
Ability to integrate multiple data sources and databases into one system
Understanding of fundamental design principles behind a scalable application
Able to create database schemas that represent and support business processes
Able to implement automated testing platforms and unit tests
Proficient understanding of code versioning tools {{e.g. Git, Mercurial, or SVN}}
Familiarity with development aiding tools {{such as Bower, Bundler, Rake, etc}}
Familiarity with continuous integration
It would be great if the programmer has a mixed skill set for working with both front-end and back-end technologies, including server-side technologies.
WHY RUBY ON RAILS FOR WEB DEVELOPMENT?
Flexibility on a budget
Time to Market
Easy maintenance & support
Clean Codes
Highly productive
eCommerce friendly
BEFORE HIRING A RUBY ON RAILS DEVELOPER FEW THINGS ARE VERY IMPORTANT
Different reasons why you need to hire ROR developers, but few things are very the same. It will provide you with a list of things to consider when hiring ROR developers.
Industry Understanding:
Considering that a website is going to be the future of your business and your company's brand face, the developers you hire should have some kind of understanding of your industry.
Work Portfolio:
The portfolio is the first preference for the most obvious and important step of interviewing a developer. When looking at developer portfolios, you can understand the level of their experience is a must of web development. You can check the quality of their work and the skills that they have under their belt.
RoR developers frequently develop cookie-cutter designs and lack flexibility and innovation.
Check the previous work record:
It's very important to check the developer's previous work record. Unlike reading a resume or looking through portfolios, this step can give you real insights into ROR developer skills, experience, and professionalism.
Expense:
This is a very important question, ROR developers usually can be hired either at a fixed cost or on an hourly basis. It's required to make it more important to ask about the cost.
WANT TO HIRE A RUBY ON RAILS DEVELOPER FOR YOUR PROJECT?
Hire ROR developers from IIH Global to build client-centric mobile experiences that drive innovation and business growth. We use industry-standard tools to scale your business propel further and go beyond developing completely new categories, products, and services even faster than ever before.
RUBY ON RAILS DEVELOPMENT SERVICES:
RoR Consulting & Development
Hire RoR developers for Ruby on Rails-based development to enjoy quick timelines and reduced costs.
RoR Custom Application Development
Full-stack development framework with a plethora of Ruby's security and performance gems to rapidly deliver prototypes.
RoR Web Portal Development
RoR web portal development provides a complete solution of website portals for B2B and B2C sectors.
Rails Application Performance Tuning
Achieving and maintaining business mission-critical applications to function at optimum performance.
RoR Porting and Migration
Enhance the performance of our application to new heights by robust porting and migration services.
RoR Application Maintenance
Expert developers to provide ROR-based application support and maintenance services.
INDUSTRIES WE HAVE WORKED WITH
When you hire ROR developers, you get a team who are specialized in a wide array of industry verticals catering to all kinds of startups and small businesses.
BANKING & FINANCE
MARKETING & SALES
HEALTHCARE
E-COMMERCE & RETAIL
TRAVEL & TOURISM
EDUCATION & E-LEARNING
OUR HIRING MODELS
RETAINER
The billing is done on a periodic basis such as 2-4 weeks. Suitable for ongoing or long-term projects.
FIXED COST
The billing is done according to a fixed project cost. Suitable for projects with precise specifications and documentation
HOURLY
The billing is done according to the time spent by the team. Suitable for small mid-scale projects with varying workflow/skill requirements.
THE PROCESS FOR HIRING ROR TEAM IS AS FOLLOWS:
Send your requirements
Research & Analysis
Team's resumes sent to resources
Interview & Shortlisting round
Give Estimation of Budget & Timeline
Started working on the project
Daily Work Updates
WHY CHOOSE IIH GLOBAL FOR RUBY ON RAILS DEVELOPMENT?
Security and IP Protection
Flexible Hiring Models
24*7 Technical Support
Source Code Authorization
Strict NDA Terms
Seamless Communication
Still, have queries? Email us at info@iihglobal.com or Get In Touch with our ROR Development team.